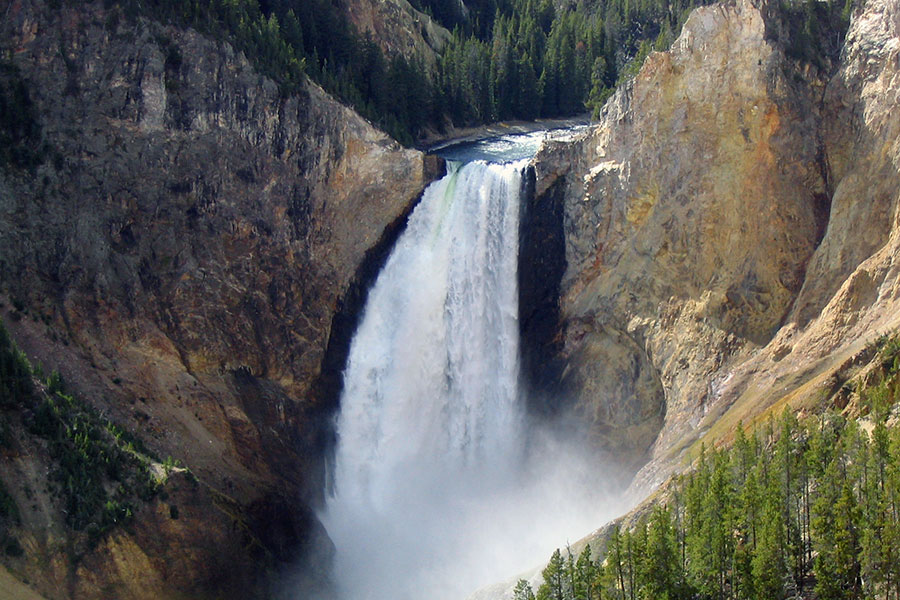 Yellowstone Touring Company Lower Loop Tours are our most popular tour and visits the best of Yellowstone's top attractions. As with all of our tours, we will keep you away from the bulk of Yellowstone's crowds. The tour begins with a trip into Yellowstone's Gallatin District and West Entrance Highway. This tour has great wildlife viewing, especially in the spring. The tour continues with a visit to Gibbon Falls, the Grand Canyon of the Yellowstone, Lower Falls, Upper Falls, Crystal Falls and the Hayden Valley. In the afternoon it is off to Old Faithful to visit the geyser and the historic Old Faithful Inn. There will be a short hike at the Fountain Paint Pots and a visit to Firehole Lake Drive as well. Enjoy the cooler evening hours with  the Yellowstone Touring Company Lower Loop Tours as the wildlife becomes active and begin to forage.
Our guides may travel either direction around the loop, depending on the geyser predictions for the day. There will likely be other sights visited that are not mentioned above.
Tour Highlights:
Firehole Falls, Firehole Canyon, the Fountain Paint Pots (short hike), Firehole Drive, Old Faithful Geyser, Old Faithful Inn, Yellowstone Lake, the Lake Hotel, the Hayden Valley, the Grand Canyon of the Yellowstone (South Rim), Upper Falls, Lower Falls, Crystal Falls and Gibbon Falls.
Common Wildlife:
Elk and Bison are common; Coyotes, Wolves, Grizzly Bears and Moose are sometimes spotted in the spring and fall. The Bison Rut is in mid August and this tour is a great opportunity to view the Bison in their mating season. Geysers and thermal activity is at it's best in the warmer summer months. Some tours will catch a huge rainbow in the spray of the Lower Falls during the mid summer. This trip travels through the heart of Yellowstone's super-volcano.
Some Interesting Facts:
Yellowstone covers over 3,468 square miles, (2.2 million acres), and is part of the largest intact ecosystem in the earth's northern hemisphere. Half of the geothermal features in the world are in Yellowstone National Park. Fueled millennia ago by the Yellowstone Caldera, our continent's largest super volcano. The Yellowstone Caldera is also home to Yellowstone Lake, one of the largest high-altitude lakes in North America.